Garage Door PANELS San Antonio
We Are The Leading Residential Garage Door Panels Repair & Replacement Experts in San Antonio, TX
Premier San Antonio Garage Door Panels Repair & Installation
Why are garage doors important?
Garage doors are important for your home. Garage doors protect the contents of a garage from rain and snow, provide privacy in residential neighborhoods, can be used as an emergency exit during emergencies such as wildfires or earthquakes, and prevent theft. Your garage doors need to withstand harsh weather conditions, and garage door panels need to maintain their strength even with hot temperatures that melt asphalt pavement and extreme cold that freezes water into ice crystals.
Garage doors should also not warp because of heat, and at the same time, garage door panels cannot become warped due to intense sun exposure on one side of the panel while another is faced away from it due to wind direction. Knowing more about garage doors and panels will help you make the right decisions for your homes and businesses.
What are Garage Door Panels?
Garage door panels are a great way to enhance the look of your home. Garage doors are often an overlooked part of the exterior, but garage door panels are a fantastic way to spice things up! It is essential to have panels installed for your garage doors because it can lower your home's heating and cooling costs. Garage door panels are cost-effective and a great way to improve the look of any garage. Garage door panel installations, repairs, or replacements can be tricky, so we should be cautious in deciding our actions for our panels.
What type of Garage Door Panel is right for me?
Garage door panels refer to decorative pieces that attach to or hang over the top of an existing garage door. The type of garage door panels that are best suited to your needs will depend on what they need to accomplish. If you want added security and something that is more aesthetically pleasing, you'll want to look into steel or aluminum panels. If your trailer has limited access points and the garage door panel will need to be mounted on the side of the trailer with no overhangs, for example, as well as it needs protection from rain and snow, then vinyl or composite doors would work best.
If you're looking for decorative purposes only–perhaps to help obscure what's happening inside a workshop in your backyard–then wood can also work well—deciding on the best kind of garage door panels depend mainly on homeowners. If you are having a hard time deciding what's best for you, seeking a professional's opinion would be the best option for you.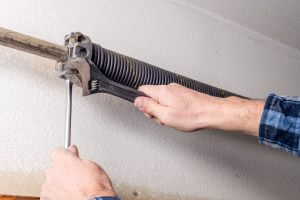 Have an Existing Panel? Get it maintained.
Garage door panels are a significant investment for any homeowner. It is crucial to understand what maintenance your garage door panels need if you have an existing panel. Maintaining them ensures that they continue to be of the highest quality and last as long as possible! Garage door panels require a certain level of maintenance and, if they are not appropriately maintained or regularly, can lead to premature wear and tear on the garage door panel. Maintenance of your garage door panels may require annual or bi-annual service, depending on the age of your garage door panels.
Some people will do this type of work themselves when their garage doors become over 20 years old because that means they should be ready for replacement at this point in time. However, more often than not, garage door companies offer maintenance packages that make sense as a long-term investment. It is always better safe than sorry, so maintaining them before anything happens saves money in the future!
Efficient Garage Door San Antonio offers one of the best maintenance services for your garage door panels. Leave them in good hands with our experts in maintaining and keeping your garage door panels strong and beautiful!
Garage Door Panels Repair and Replacement: Seek An Expert Today!
Garage door panels are a safe and convenient way to protect your garage doors. Garage Door Panels Repair can be done by cutting the panel from its frame, replacing it with a new one, installing it back on the same track, or adjusting its position if needed. This may sound easy, but the actual process may be challenging when done by someone without sufficient expertise and the right tools.
Seeking the help of a garage door panel professional is recommended for all homeowners, whether you need a minor repair or a major replacement. Professionals are trained to work on different types of garage door panels homeowners have. They also have the necessary tools and equipment needed for the job. Garage Door Panels Repair is essential to service homeowners need to maintain their garage doors as good as new or better.
Trying to repair or replace your garage door panels may worsen the issue or might cause accidents or harm to you and your family. A certified and licensed professional will ensure that the job is well done with the result that can satisfy you. You won't need to lift a finger as they will take care of all your garage door panel needs.
Finding the right contractor for your Garage Door Panel Needs
With many garage door companies out there, it is quite a challenge to find someone who will provide the service you deserve! To help you choose the best contractor for your garage door needs, consider the following criteria on selecting your top choice:
– Garage Door Panel Quality: The garage door panels should be well built and durable to ensure they last for a long time. Garage doors are one of the most important safety features installed in your home, so you want them to be strong enough to withstand anything that might happen; an installer who understands this will use high-quality materials for their garage door panel installation.
– Garage Door Panel Services Offered: The Garage Door Panels company should offer different services such as regular maintenance or emergency repair service if needed. With a wide variety of available options, it is much easier to find someone who can help with any type of problem!
– Customer Service Commitment: Accidents happen, but customer satisfaction shouldn't have to! When choosing your garage repair contractor, make sure they value their customers well. You can always check reviews from past customers online to check if your potential contractor is a customer-oriented one. Choosing a company that cares about their homeowners can help you out during accidents that may happen within the course of performing the job. Also, your questions can be answered, and no queries would be left unattended.
The Best Garage Door Panel Service Provider in San Antonio
Efficient Garage Door San Antonio is a garage door panel service provider in San Antonio. We offer the best garage door panels, and provide various services when it comes to Garage Door Panels.
Efficient Garage Door San Antonio offers affordable pricing for Garage Panel installation. You can have your garage doors installed with our expert workmanship at an affordable price! We are committed to providing high-quality customer satisfaction and customer experience by giving you top-notch garage door service worth every penny spent on it!
For any garage door or garage door panel needs, contact Efficient Garage Door San Antonio today!
For a free quote or to schedule an appointment, call us at (210) 955-9505 or fill out the form below.
Check Out Our 5-Star Reviews!